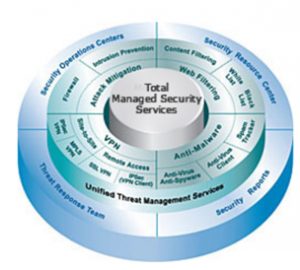 To protect our customers' network against unauthorised access and malicious attacks, hackers, malware and other threats on a real-time basis, we provide internet security solutions comprising internet content filtering, threat mitigation and prevention, and internet-based secured VPN. Our internet security solutions include consultation, procurement and implementation of security measures, such as network firewall, web application firewall, intrusion protection system, advanced threat protection, application control, email security, anti-virus protection and various types of internet filters. Meanwhile, our VPN services allow our customers to connect the private networks at multiple locations via the Internet where all traffic is secured by encryption protocol known as IP Security (IP sec). The same service also enables remote users to connect to a private network from the Internet in a secured way.
Our NOC provides 24 hours a day and seven days a week internet security services and is backed by our engineers and IT technicians.  We dispatch our group of onsite field engineers to our customers' premises if the technical problems cannot be resolved remotely.
Based on customers' business nature, specific requirements and past records, we also assist our customers in formulating solutions and policies on internet content management to address internet challenges and threats. We also responds to customers' request to update or upgrade the solutions from time to time.
Further, to provide our customers with visibility of the security status of their networks, we provide our customers with real-time monitoring of network threats so that our customers can identify the active threats that their network is facing, as well as periodic threat reports and analysis for our customers to make business decisions.
Managed Security Service includes the following:
Network Firewall
SSL VPN (Site-to-Site, End-User to Site)
Intrusion Protection System (IPS)
Antivirus (Gateway)
Anti-SPAM Email Filtering (Gateway)
Web Content Filtering (URL)
Layer 7 Application control
Web Application Firewall
Endpoint Security
Distributed Denial-of-service
Reporting module
Access to online portal to monitor bandwidth utilization